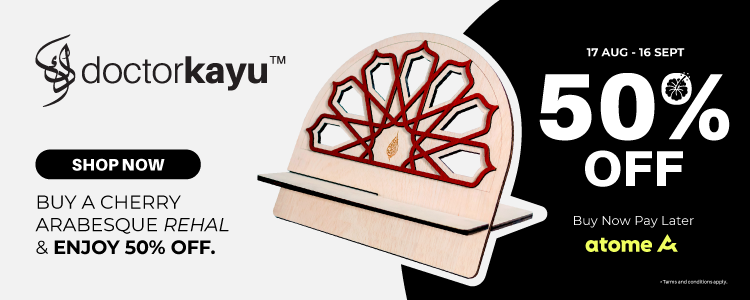 Baca dahulu sebelum order. Jika anda beli, maksudnya anda faham dan bersetuju dengan syarat-syarat kami
Order hari ni, esok keluar (hari bekerja shj, isnin hingga sabtu, ahad & public holiday tutup)
Jika terlalu banyak order pd hari yang sama, rehal akan dipos pada hari bekerja berikutnya.
Kami tidak boleh pilih courier yang digunakan.
Anda disarankan order awal dari tarikh sepatutnya jika rehal ingin digunakan untuk majlis dsb.
Tempoh masa rehal sampai kpd anda bergantung kpd courier kawasan anda.
Nama yang nak ukir di rehal perlu ditulis di bhgn remark/message sebelum check out (pastikan nama yang nak diukir betul sebelum tulis di bhgn remark/message, boleh chat kami dulu untuk check nama yang nak ukir)
Maksimum 3 patah perkataan.
Font nama di rehal adalah sama seperti di dalam gambar & tak boleh tukar.
Kami takkan tunjuk draf design nama kpd customer.
Sekiranya anda tidak memberi nama & tidak membalas chat kami dalam tempoh 24 jam, hanya rehal kosong yang akan dikeluarkan & dipos.
Keadaan rehal yang kami hasilkan bergantung kepada material kayu yang kami dapat, & kami berusaha sebaik boleh untuk membaiki rehal yang tidak sempurna supaya customer kami puas hati. Natural wood may feature differences in texture, knots and color, making it completely unique. (trees have uneven colors just like our skin). Perkara begini tidak dpt dielakkan kerana keadaan/corak kayu yg natural kami tidak dapat ubah. Jika rehal yang anda dapat mempunyai kesan kehitaman, itu disebabkan kesan laser potong rehal, apabila kayu terbakar, dia akan jadi arang & menyebabkan sedikit kehitaman. Untuk hilangkan kehitaman tu, sila lap menggunakan tisu & ia akan bersih serta-merta. Perkara ini juga kami tidak dapat elakkan walaupun kami telah mengelap tepi rehal sebersih yg mungkin.
Kindly do not purchase if you cannot accept these natural attributes.
Doctorkayu presents doctorkayu luxe collection. This collection is a brainchild of our collaboration with nokta, an established designer furniture manufacturer.
Adding on to our doctorkayu luxe collection is the classic 'rehal'. Our product that is loved by many, the 'rehal' is given a fresh revamp with a touch of shahril's wooden clocks design, the arabesque clock.
We integrated the arabesque feature into our 'rehal', weaving in the islamic component while still staying true to our timeless 'rehal' design. Made out of premium wood that will stand strong in a test of time.
Rehal arabesque
can be assemble and disassemble with simple, swift movement
doubles as a book, tablet or phone stand
very light, suitable for travel
perfect size available in 33.3cm (l) x 30cm (w)
made of premium poly wood (3.6mm) and ply wood (9mm)
Available in 3 versions:
Interested? Add to cart now and enjoy having our luxe collection in your home.